Company Profile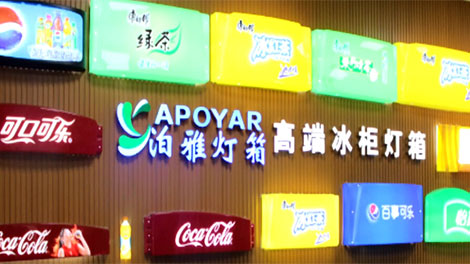 Zhongshan City, Hai Le Electric Co., Ltd. located in Zhongshan City, Guangdong Province, China Dongfeng Town, Tongle Industrial Park Road, No. 108 with fun. Factory area of over 15,000 square feet, more than 200 employees, is the high-end freezer shelf, plastic light box global R & D and manufacturing base. With "in the sea music", "Bo Ya" and other well-known brands in the industry.                              Hai Le electrical company over the past few years, with strong technical force, advanced production equipment, innovation, in the industry first introduced freezer 3D plastic light box, and access to national patent certificate. Companies in leading the development trend of the industry at the same time, market demand-oriented, continue to create new customers value.                              Haili under the company: freezer hardware shelves, drinks show two business units.
Freezer hardware racks Division has 10 automatic welding machine production line, 30 semi-automatic welding machine, more than automatic argon welding machine, stamping and ancillary equipment, and has three advanced automatic leaching production lines, well-known at home and abroad Freezer enterprises supporting high-quality freezer shelf, high-end dishwasher basket and other metal products.
Beverage display Division has four automatic plastic machine, semi-automatic plastic machine ten, four automatic four-color silk screen production line, semi-automatic screen printing machine twenty-three. Professional to create "high-end freezer light box" and other Parka freezer display products for the international well-known beverage brands to provide freezer display products.
Company philosophy: to create value for customers, for employees to build a platform for shareholders to create profits.
Haier people adhering to the "industry benchmark, a Chinese brand" strategy, to create the world's high-end freezer hardware shelves, beverage display R & D and manufacturing base.
Growth process
In April 2006, Zhongshan City, Hai Le Electric Co., Ltd. was formally established.
August 2006, the introduction of freezer light boxes, silk screen stickers and other freezer display supplies.
August 2007, start the freezer shelf production, and in the market made the customer praise.
In 2008, the company registered "in the sea music" shelf brand, access to Coca-Cola, PepsiCo company praise. P>                         
Since 2010, freezer shelf products exported to Japan, the United States, Europe, Indonesia and other countries, access to foreign customers recognition and praise. P>                         
2012, the industry's most important 3D plastic light boxes, and access to national patents, the industry made a major breakthrough. P>                         
2013, the company registered the "Bo Ya" brand, professional to create high-end drinks display light boxes, silk screen, and other products. P>                         
In 2014, the company entered the stage of rapid change, the factory expansion and management system innovation, and achieved a cross-cutting results. P>